In the next 25 pages, you will see our family and the families who contributed to helping our kennel to be a success by their kind words and photos of their loved one. I know there are a lot of pages, but even though it was a lot of work, it seemed necessary to give each Golden their page as they are unique in every way. Each song that is attached to our Goldens' pages expresses their name and personality. I hope you will return often and enjoy what you see!
- Sue Chandler, Owner/Breeder
Easter - April 5, 2015
Lindsy, Leslie and Kelsy

KE-LI'S GOLDEN ACRES'
RETRIEVERS
was formally named GOLDEN ACRES' RETRIEVERS. The name KE-LI's is taken from the first two letters of our twin daughters' names; Kelsy and Lindsy. Lindsy is a licensed Cosmotologist, married and has a beautiful daughter, named Leslie and two sons named Tyler and Clayton. Kelsy graduated from IUS (Spring 2010)with a Bachelor of Arts degree in Sociology and a minor in Religion. In May of 2011, she bought her first home all on her own. On August 13, 2016 she is got married and moved to Mitchell, IN. We love them dearly! They are our PRIDE and JOY!!
KE-LI'S GOLDEN ACRES' RETRIEVERS is a small kennel that breeds quality AKC GOLDEN RETRIEVER puppies. We strive for excellent health, temperament, and confirmation from champion blood lines. Our puppies are socialized with children and adults of all ages, as well as other dogs, cats and even horses. We are reputable breeders with over 35 years experience. We are located in southern Indiana, in the country, on over six acres of rolling and wooded land. Our kennels are clean and well maintained. Due to a fire on February 15, 2007, we have a new facility that is 24' x 40'. The whelping area is 10' x 24' and is heated and air conditioned for the mother's and puppies' comfort. The kennels are also surrounded by over 1/2 acre of chain link fence for their protection and exercise. KE-LI'S GOLDEN ACRES' office is located in the basement of our home just a few feet away. They also occasionally keep me company there while I work.

CHANEY X COSTNER'S LITTER - BORN 10/13/2006
MALE - "RUPERT" (Chessie's brother) at 11 months old
Although I have a degree in Interior Design, in 1995, I decided to leave that career and dedicate all my time to become a full time mother and breeder. Although it was difficult to leave a career that I loved, the fringe benefits of staying at home are priceless! Now that both of our daughters have their own houses, we are experiencing the dreaded "empty nest syndrome"! It is through raising and interacting with our Goldens that we find peace through this difficult transition in our lives! Raising Goldens is my passion and I am here as a full-time breeder and support line 24/7!
A DOG LOVER'S PRAYER
Lord, you knew that there would be times when man would need another
kind of friend-one who would not criticize, nor blame, nor make demands,
nor question. One who would only listen and love.
And so you gave us the dog. Not just one dog, but a dog to suit
every temperament and personality.
Lord, we thank you for man's best friend. Help us to remember
that he also belongs to you.
Therefore, while we enjoy him, we are not to mistreat him,
nor alter his health and ability to function by breeding to suit our foolish whims.
We are not to thwart his purpose by keeping him isolated where he cannot
learn to function in our world.
Teach us, Lord, not to inflict pain and suffering to gain our selfish ends
--sometimes as frivolous as a purple ribbon, and not to breed so many of his kind
that homes cannot be found and he is left homeless and starving,
or sentenced to death in a shelter.
Help us, Lord, to love our friend,the dog, in such a way that it reflects your love
and compassion for mankind, whom you have called your friend.
Author Unknown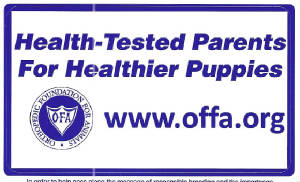 http://www.offa.org